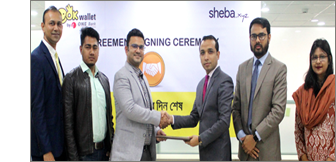 Dhaka, February 5, 2019:
OK Wallet of ONE Bank and Sheba.xyz signed an agreement at the Corporate Headquarter of ONE Bank on 5th February 2019. Under the agreement, OK Wallet customers will able to make payment at Sheba.xyz and will enjoy 30% cash back, special promo-code and attractive prizes.

Mr. Gazi Yar Mohammed, EVP & Head of Digital & Inclusive Financial Services of ONE Bank Limited and Mr. Ilmul Haque Sajib, Co-founder & COO of Sheba.xyz signed the agreement on behalf of their respective Organizations.

The high officials of both the organizations were also present in the ceremony.