OK Wallet Customers can add money from ONE Bank Account instantly. This service will save time as well as make add money process smooth and convenient for OK Wallet customers.
How to link your ONE Bank Account with OK Wallet:
Download OK Wallet linkage form- https://okwallet.com.bd/form/OK-Account-RegistrationLinkage-Form.pdf
Properly fill up the linkage form by providing same mobile number and NID number as given in the ONE Bank account.
Visit any nearest ONE Bank Branch with the filled up form to link your bank account with OK Wallet.
After verification procedure and linkage you will receive a confirmation message.
Then you will be able to see your OBL linked account number in 'Add money from ONE Bank Account' section through Mobile App and USSD.
Process of adding money from linked OBL Account to OK Wallet using OK Wallet App and USSD: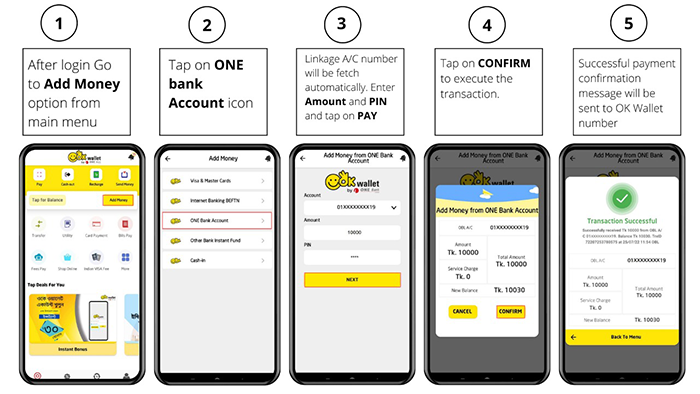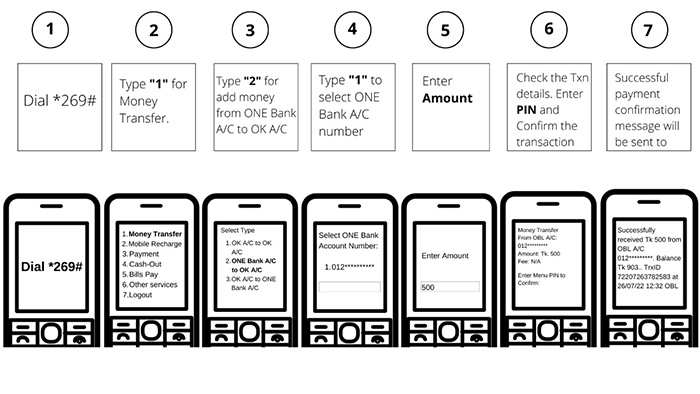 Service charges:
No service charge is applicable for add money from ONE Bank account