ONE Bank Limited signed an agreement with Bay Emporium Limited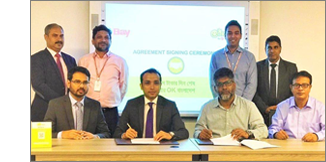 Dhaka, September 23, 2019:
ONE Bank Limited and Bay Emporium Limited signed an Agreement at the Corporate Headquarters of Bay Emporium on 23rd September 2019. Under the Agreement, ONE Bank's OK Wallet customers will be able to make purchase at any outlet of Bay Emporium across the country.

Mr. Gazi Yar Mohammed, Head of MFS & Agent Banking of ONE Bank Limited and Mr. Md. Ziaur Rahman, Managing Director of Bay Emporium Limited signed the Agreement on behalf of their respective Organizations. Mr. Taifur Rahman, Head of Retail of Bay Emporium and Mr. A Z M Fouz Ullah Chowdhury, Head of Mobile Financial Services of ONE Bank along with other high officials of both organizations were also present in the ceremony.